Disco Hire
What Makes Us Stand Out From The Rest?
Dragon Event Services started over 6 years ago doing small Pub Gigs. Since then we have grown in size with both Lighting Specialist and Professional Audio Specialist. We strive to provide high end Disco's at reasonable prices with our low cost Extras We CAN make your Disco truly unique.
What Do You Get For Your Money?
An initial Phone Call so that we can discuss all your Ideas.
Face to Face Meetings with Coffee.
Constant Communication via Email and Phone to Discuss any Changes .
PA specific with your Party in mind
Atmospheric Lighting and Light show ideal to Create the right Party Mood
Communication with your Guest (as discussed) .
Dress Code Suitable for your Event.
What Extras Are There And Will There Be Any Additional Costs To These?
We have many different Extras available and are always adding to the list the Cost of which depend
on different factors such as what Package you have gone for, the quantity of Extras, the length of time it takes to Set Up and whether you require someone to Supervise.
Extras Include:
Uplighting
Band Support
Wedding Package
Specialist Lighting, Design, Install and Collection
Children's Parties
Please do Contact Us to discuss your Party Needs and Prices and see our Special Offers below
SPECIAL OFFERS:
Please check back for any Special Offers. If you are unsure please Phone for details.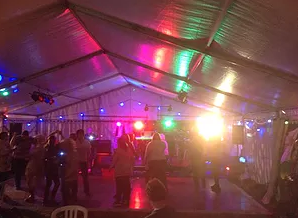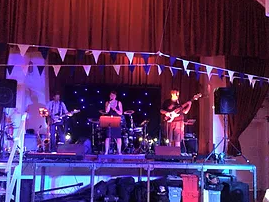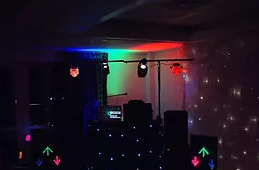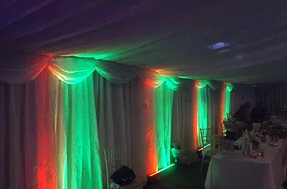 Price List
Continue Checking this Page to Find Out all Our Prices and Latest Deals.
We try to make as many Meetings with you prior to the Event as you require and we wont charge you any Extra
Please Contact Us for a more Specific Package Tailored to your Event or for Information on further Equipment or Staging available for Prices of our Disco Services Please Contact Us directly for a Quote
ALL PRICES INCLUDE SET UP, PACK DOWN AND A OPERATOR FOR THE COURSE OF THE EVENT
FURTHER TECHNICIAN IS PRICED AT £10 PER HOUR